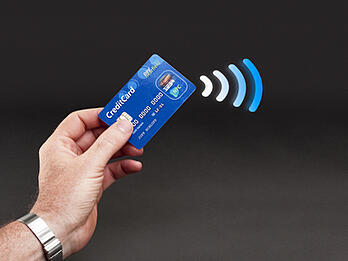 The payment processing industry technology has come a long way from the prehistoric bulky dial-up terminals, especially in recent years. The transformation to newer technologies within the payment processing industry has brought us virtual terminals, mobile payment apps, eCommerce solutions and now contactless payments are expected to break through into Canada and the United States.
Contactless payment continues to thrive in European countries, but this major advance in payment processing has not yet been fully embraced in North America markets. Meanwhile, this method of payment was co-opted many years ago in Europe, as previously mentioned, integrating seamlessly, adopted as the norm, and is practically on its way out at this point. European and Asian nations are paying for things using mobile smart phones no longer needing to carry credit and debit cards, and it looks like its our turn.
On the way in
---
Long queues at retail checkouts may soon be a thing of the past. The ever increasing populatrity of contactless payment systems in Canada is turning into what may become the new norm for payment processing by 2014. Larger stores and retail chains have already begun to to adopt the new payment processing method at what seems like an unstoppable pace. Smaller merchants are expected to be taking part closer to the 2014 mark that I mentioned.
Contactless payment systems – more commong called 'touch and go or 'wave and pay' use an RFID-enabled credit and debit card to make payments securely and quickly. This payment processing solution is all EMV and PCI compliant, so your information, card numbers and transaction history are all safe and sound, with no need to fret.
What Does this Mean For Merchants
---
With the introduction of the Visa 'pay wave', MasterCard 'pay pass' and Interact 'flash', once the consumer market begins to full accept these cards as the normal everyday way for payment processing, and to make transactions – merchants will be expected to follow suit with payment terminals that are compatible with the contactless cards. The transition will not be as difficult as previously expected. With payment processing companies that are equipped with contactless payment terminals, finding the right solution for your business continues to be the same.
Using the right payment processor will give you the insight needed to make the transition into contactless payment solutions.As the market continues to grow with contactless cards, and consumers become more and more expecting of fast shopping experiences, automated payment stations and convenient checkout.
Security
---
There are security misgivings that are acknowledged about contactless payment solutions, and that is something that is constantly being addressed by Visa and Mastercard. The implementation of contactless is based on the EMV standard – which is highly secure and has been already adopted by all merchants who process credit and debit cards. Since all the banks are already issuing EMV cards, the transition to contactless is relatively small. We will be seeing all the banks issuing contactless cards in larger numbers over the next 12 months.
As a merchant, it is important to have a payment-processing partner that you can rely on when making the switch to contactless payment for your business. Take the time to ask the right questions about your industry and your payment processing solutions. Your business should grow with the growth of new technologies for accepting credit and debit payment.