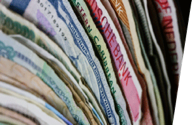 The hospitality industry revolves around the ability to satisfy all customers' needs. In order to understand how to do that, you must first understand the customer. For the most part, a customer who enters into a hotel is expecting top quality service, pampering amenities, and an experience that keeps them coming back. The experience is not just about the room, or the dinner, it is tied into everything that incorporates the hotel, and that includes payment. It may sound trivial, but payment can be a frustrating scenario, and the more complicated your payment system, or the longer your payment terminals take to process a transaction, the bigger the burden can be on the customer. Accepting international currencies is just one of the key benefits you can bring to your customers that will improve their experience dramatically.
Accepting international currencies will allow your foreign customers to be able to make payments in their home currency, while you settle in Canadian dollars. It is not only a great way to attract foreign customers, but it is a great way to set yourself apart from the rest of the hotels that are not currently accepting international currencies. Take a close look at the following 3 reasons why every hotel should accept international currencies.
Customer Experience
---
We discussed customer experience briefly above, but it is not all about the hotel room like we said. It is making the guest feel comfortable, important, and that they feel like they are at home. Granted, it will feel like a much nicer and bigger home, but home nonetheless. Accepting international currencies for your foreign guests will show that you care about pleasing everyone, not just your domestic guests.
It will provide them with the clarity that they know exactly what they are paying in their home currency, and will not have to guess until they get home and review their credit card statement. It is proven that foreign guests that have a great experience at a specific hotel will come back and stay at that exact same hotel 85% of the time when they return.
If your guests know that your hotel accepts international currencies, and they will know exactly what the costs are throughout their stay, the chances of their return are extremely high.
Reduce Chargebacks
---
Costly annual chargebacks are an absolute burden to any business, especially hotels and the hospitality industry. Chargebacks are when a customer disputes a transaction to the card issuer (VISA, MasterCard, AMEX ETC) and you as the merchant are on the hook for the total amount of that transaction, as well as any additional fees that are incorporated with the chargebacks.
With foreign guests, the amount of chargebacks can greatly increase because what they pay for in Canadian dollars will show up differently on their credit card statement once the foreign exchange has been completed. These changes can cause confusion, and result in foreign guests believing that they have been overcharged or feeling unsatisfied with their stay.
Accepting international currencies will give them the ability to see what the costs are in their home currency, relieving any confusion, and reducing the amount of costly chargebacks that you receive from foreign guests. What the customer sees on their receipt is what shows up on their credit card statement.
Double-Sweater Effect
---
The double-sweater effect refers to the notion that when you look at a price in a foreign currency and you speculate what that price would be in your home currency, you typically decide against buying more than one item, or you calculate the foreign exchange rate incorrectly leaving you thinking the price is more than it actually is.
With accepting international currencies, the customer has the ability to see exactly the price of what they are purchasing in their home currency, and typically resulting in them spending more money as a result. Whether it means buying two sweaters, or an extra spa treatment, or even an extra night. The comfort that is provided with knowing exactly what your foreign guests are paying, will nurture their experience, and keep them coming back.Accepting international currencies at your hotel is a great benefit, not only for your hotel, but for your foreign customers as well. This is a great additional to your hotel experience and will drive revenue for your hotel in multiple ways. Make the addition sooner rather than later, and get involved in the overseas market.