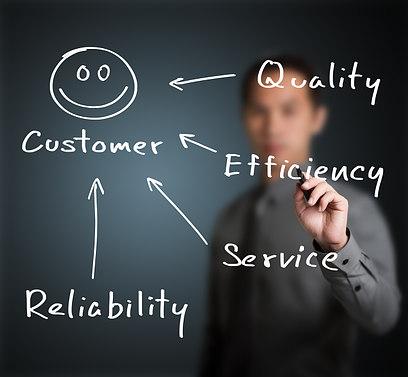 We all love to save money, and it's important to save money where you can, but should it be at the expense of quality? Payment processing, from a birds eye view, can be thought of as a bunch of providers all selling basically the same thing. Similar products, similar guarantees, and similar proposals - they all seem very similar. Where most people seem to find the difference is in the cost of using a payment processing provider. The inundation of calls that merchants receive on a daily basis, all with the initial pitch of 'We can save you money!' has created a stigma surrounding a part of your business that is not only imperative to generating revenue, but also imperative to the service that you provide to your customers; payment processing.
The saying remains, you get what you pay for and that is no difference with payment processing. Whether you are paying for a product, service, trip etc, you typically will learn the hard way that if you are only concerned about cost, you will be sacrificing something, somewhere down the road.
RATES
---
Rates are definitely important, but they are not the only thing to be concerned about when accepting credit and debit cards at your place of business. There are many payment processors that put fixed rates in place so you know, regardless of the card type, what you are paying every time you accept a credit card payment.
This is a great way to calculate your effective rate, and build the price of payment processing into your business model. Whether it is the entire percentage of your monthly processing statement or just one percent, accepting credit and debit cards should drive revenue not come out of your bottom line.
PARTNERSHIP
---
Payment processing providers should be willing to work with you to fit you with the best solution for your business. If they are trying to sell you a one size fits all package, you have more to worry about than just price. You would never buy one size fits all clothes for yourself, why should payment processing be any difference.
Build a partnership with your payment processor; use the services, customer support and knowledge that they provide. However, be aware, if you are solely focused on price, the support and knowledge that you are expecting to receive will be few and far between.
SUPPORT
---
When rates and fees are the only concern when choosing a payment processing provider, you will quickly see the type of support that you will be provided. Resources cost money, and when payment processors are consistently pushing low rates and low fees at you, the notion of saving you money translates into being unable to service you as a client. The reason why poor service goes hand in hand with low rates and fees is because it's a game of numbers.
Turnover rate for those payment processors means that if you decide to leave, they have 2 more merchants signed up in your place, and its a continuous cycle. As long as they have more merchants being signed on false pretenses than those leaving, they are profitable. That is a horrible business model, and if definitely something you want to steer very clear of.
There are many payment processors that pride themselves of retaining their clients, and getting quality clients that want professional support, professional service and a partner to work with when dealing with their business' money. Accepting credit and debit cards with the right payment processing will drive revenue for your business. It's time you start working with the right one.