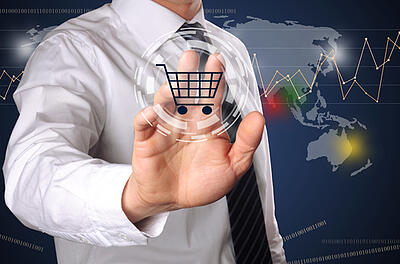 The boom of the digital marketplace means that consumers are not only buying internationally while they are traveling abroad, but while they are sitting in the comfort of their home or office. Online shopping through ecommerce websites allows consumers to choose from a limitless number of stores and move far beyond the reach of where they are able to drive for a day trip, not to mention comparing products and services quickly and easily. As a result, businesses that want to attract the highest number of consumers need to make international payment processing a priority in order to grow their online business.
Of course, being able to accept Visa debit and credit cards is vital in today's competitive business environment, but businesses that want to gain an extra edge should work to make paying as easy as possible for international customers that are shopping online.
International Payment Processing
---
Placing an emphasis on international payment processing might be particularly vital for Canadian businesses that are falling behind their competition, as accepting international currencies through your online business will broaden your consumer base by creating global reach.
The Canadian online marketplace has shown steady and increasing growth over the last year, but still lags behind other countries, including the United States, which leads the world in online purchases making up more than 40% of all ecommerce business. There are several factors that contribute to that trend, but the fact that Canadian consumers tend to buy from American and other international retailers hurts Canadian businesses.
Encouraging International Buying
---
Encouraging international buying and working to attract shoppers from all over the globe might help offset the problem that Canadian online businesses are facing and, in the long run, help prevent Canadian shoppers from looking abroad. In addition to catering to international shoppers, growing online businesses must also make sure that they are able to provide an easy buying experience for mobile shoppers. In fact, last summer, the amount of time consumers spent shopping on their mobile devices surpassed PCs and laptops for the first time.
Experts believe that trend will continue, so online businesses who do not want to miss out on customers will need to install reliable mobile payment systems and ensure their website is mobile optimized for the best shopping experience on any smart phone or tablet.
The Right Provider
---
Mobile optimization for online businesses is just as important as having a robust international payment processing solution. Since it can be harder than it sounds to upgrade payment systems, many owners and managers will choose to partner with merchant service providers who can not only provide the right software and equipment, but manage the day-to-day rigors of processing payments. Lots of payment processing companies that do not specialize in ecommerce and online stores simply lack the resources needed to handle all of those tasks in-house, meaning choosing the right merchant service provider for your online business is an invaluable resource to grow your online business.
Utilizing the proper payment systems is vital for online businesses who not only want to make sure online transactions are accurate every time but give customers a positive experience that they will want to use time after time. Whether that means catering to international shoppers, mobile consumers, or both will vary, but having the right online processing in place for your online business is always important.