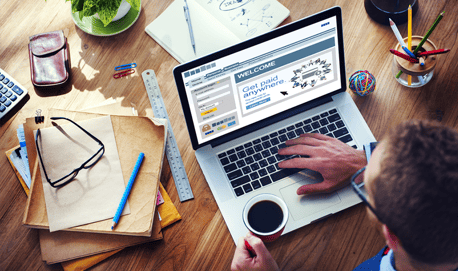 Starting up a new online business? Not only are more and more businesses starting to turn to eCommerce to grow their business, millions of entrepreneurs are starting their own businesses as well.
Competition continues to increase, which means it is important to make sure you are making the right decisions and choices when it comes to your online store. Selling your products and services through an eCommerce solution opens your business up to a broader scope of customers, and increases your marketing ability immediately, something a physical store just can't compete with.
ECommerce solutions are so popular that any business can put together a website with an online store, and be up and ready to accept payments before they know it. However, before a business starts jumping into the online world of eCommerce, there are a number of very important mistakes that business owners make which will essentially drive customers away from your website. Take a look at the 5 most common mistakes that you don't want to make.
1. Stale Design – No Logo
---
A stale or poorly designed website is a definite way to drive customers away from your eCommerce website. When a customer comes to your website and it doesn't look polished or engaging, it instantly will cause that potential customer to question the authenticity and professionalism of your business. If your customers don't trust you, they won't make a purchase. Include below are some quick ways to create a fresh and user friendly design for your eCommerce website. This will help catch visitor's attention:
• Simple search box
• Quality product images HD
• Detailed and unique product descriptions
• Easy to find contact and support information
• Clear information about return, refund, cancellation policies
2. No Social presence
---
One of the major deterrents for an online shopper is your lack of a social presence. Whether they will take a look at your Twitter feed, and recent tweets, your Facebook page or looking at your followers on Instagram. Customers want to see an engaging company that knows their client base. If your website engages with customers on social platforms, your customers will use that as a trust measurement.
Customers will be able to see first hand reviews of a product they may be looking to buy, or an issue that arose, and how your online business handled it with professionalism through one of your social media accounts. There is a lot to be said about engagement, and in today's ever growing online environment, you need to have a strong social media presence to keep your customers happy, and new customers buying.
3. Slow Navigation
---
Nobody likes to wait, especially online. Customers shop online because it's quick and convenient. Once it becomes a pain to shop online, they'll go to a competitor with faster page load times to get the job done. If you've got a website developer you're working with, have them do a code clean up on your site.
Complicated code can come from custom design, navigation flow and web plug-ins. Speak to your developer, and try and increase page load time of not only your navigation, but processing the payment as well. ECommerce website should be quick in order to keep your customers coming back.
4. Complicated Checkout Process
---
Having a complicated, or even confusing check out process for your eCommerce website is a massive deterrent for customers looking to complete their sale. Try and keep the important information, security questions, and address verification all to the same page. Completing 3 or 4 different steps to complete the transactions will promote frustration and increase the chances of that customer leaving. Be simple and only ask your customers for essential information to complete their purchase.
5. Surprise charges
---
There is nothing that will alienate a customer more, and perhaps even chargeback their purchase, than additional or surprise charges at checkout. Forward facing costs and fees to the customer such as taxes, shipping charges etc. must be clearly outlined before you get to the final step of check out. It is also a great benefit to your merchants to have a cost calculating shopping cart.
This means that while the customer is shopping and adding products to their shopping cart, the total amount, including taxes, and shipping is stated before they go to check out. This will let the customer know exactly how much they are spending, and more often than not, increase their spending.