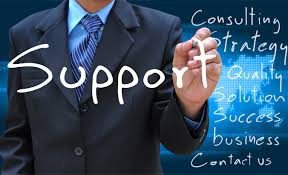 Implementing a robust and feature rich payment processing system to your online store needs to have a few requirements that will make it go well above and beyond its return on investment, on top of ensuring better customer loyalty online. Some of those requirements include being able to accept multiple types of currencies, being able to have a quick verification system, and then probably the biggest one: being able to provide top and high quality customer support and service within your online payment processing.


There is such an emphasis on customer support through online payment processes for several reasons, but it is more than just investing in your own business in both the short and long term. It is also investing in your customers and making sure that they only consider you when doing their purchasing, especially for larger products. It is also instilling brand loyalty, which can be quite difficult to achieve on the online world and doubly so when customer support isn't properly implemented.

So, what exactly makes customer service and support so important in payment processing besides the reasons stated above? Here are a few reasons to consider when you're ready to start using a payment processing system.
Instant Reliability & Response Time
---
One of the most frustrating moments for your customer, or anyone experiencing a problem during a payment process system, is not being able to reach the business and figure out the issue instantly. Being able to flag issues within the system and respond to them in a very timely manner needs to always be a top priority because it shows you care about your customer's concerns as well as your payment processing. Also, showing instant reliability means better customer retention and loyalty and even better sales for you.

Not only that, but any on-going issues that might occur can be taken care of faster and easier. Instead of having "bugs" in your payment processing for weeks or even months on end, you can have a streamlined system that rarely experiences any problems. This also helps with ensuring instant reliability and response time, allowing you to really have that competitive edge.
Establishing Trust In Online Payment Processing
---
One of the bigger hurdles any retailer is going to have to jump over is establishing a strong bond of trust between them and their customers, which means making customer support a top priority for your online shoppers. Getting the necessary security verification and credentials is crucial in payment processing, otherwise your customers might not feel safe buying your products online. Having quality customer support that is quick and helpful can help deter any hesitations, allowing you to create another successful sales funnel.

Payment processing can be easily implemented into any online storefront, same with reliable security and engaged customer support for a full package. No matter how small or large your business happens to be, customer support in payment processing needs to always be high on the list of goals to achieve.