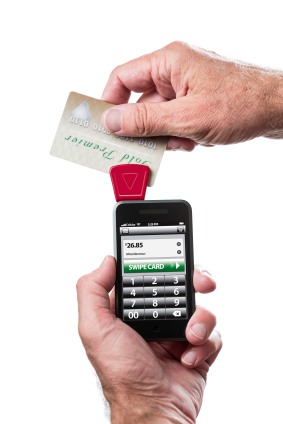 The almost exponential sales of smart phones have given birth to a new, more efficient way to accept credit card payments on the go. Not only do we carry our smart phones with us like an extended part of our body, but we use them for anything and everything to do with our daily lives.
Why should accepting credit card payments be any different? If you are lost, you simply open your navigation app on your smart phone. If you are bored and want to play a game, you simply open 4 pics 1 word and waste away the hours. If you are driving, and there is nothing on the radio, you simply grab your smart phone and start playing music. But if you are running a business, and you, or one of your in-field reps are making a service call, delivering a product or have just closed a big deal, can you simply use your smart phone to accept payment? The answer is yes.
With a mobile payment app, you can not only accept credit card payments on the go, but you can increase daily operational efficiency for your business.
The mobile payment app is not only convenient in size, but in functionality. Being able to accept credit cards on the go will save you from having to accept cheques or handing out invoices which the customer will either have to call in to pay, or pay by mail, both taking time out of your schedule.
This quick and easy card swipe that attaches to any smart phone, is ready in seconds to accept any type of Visa or MasterCard payment. Never again will you have to worry about making a call, or delivering a product without being able to accept payment on the spot. Accepting credit card payments with your mobile payment app will increase your business efficiencies ten fold.
Reporting
---
The mobile payment app provides online reporting, which allows you to actively manage your business transactions quickly and effectively. Regardless of how many users or employees you have the in-depth online reporting function clearly outlines all credit card transactions in giving you all the necessary information to correlate those transactions back to your outstanding accounts or service calls.
Online reporting for the payment app can also be exported into an accounting software application of your choosing. You can also print the data to a word document for filing purposes if necessary.
Drive Revenue
---
Being able to accept credit cards on-the-go with the mobile payment app will not only free up accounting, and accounts payable, but it will also drive revenue for your business.
Having more time to work on your business means you can increase the amount of service calls, deliveries, or sales by accepting credit card payments with the mobile app, driving revenue for your business.
Cost effective
---
The mobile payment app is highly cost effective. With a one-time set-up fee, and a low transaction rate, it is the perfect solution to any business looking to increase revenue, increase efficiency, increase security, and monitor transactions from the robust online reporting portal. In addition to the low monthly fees, having a mobile payment app for your business removes the need for payment processing equipment rental or purchase costs, which keeps more of your money in your pocket.
Take the time to manage your business needs with the mobile payment app and start creating efficiencies and driving revenue for your business. Change the way you do business for the better.