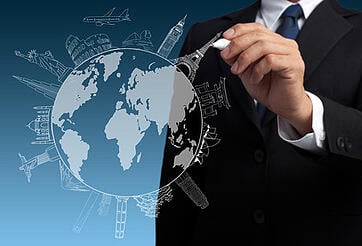 When it comes to running your business there are several different features you need to consider, one of which is allowing international markets to purchase your products and services with their home currencies. While you might prefer a particular form of payment, accepting international currencies is going to be a fantastic asset for your business and will start to drive additional revenue almost immediately.
Larger Target Market
---
Being able to accept international currencies through your online store, or brick and mortar location will allow you to target additional markets that you have not yet been able to. All consumers have their own way on purchasing products online, or when they are out shopping. Providing the ability for those consumers to purchase your product or service in their home currency will provide a value add your competition may not have. When you accept the international currencies you can literally sell your product anywhere in the world you desire, instead of just areas willing to pay in the desired currency of your choosing. Also, once you have collected the data of which international currency you are receiving the most, you will be able to market directly to specific regions based on their product choice.
Reduce Chargebacks
---
A fantastic benefit to accepting international currencies is the clarity that the consumer receives with regards to their credit card statement. Typically, when you use your credit card over seas, the amount that you are paying does not reflect what is shown on your credit card statement. This is because you were paying in their currency, and not the home currency of your credit card. Accepting international currencies gives the option to the consumer whether they want to pay in CDN dollars, or whether they want to pay in their home currency. When they choose their home currency, what they pay is what shows up on their credit card statement. This clear relationship between receipt and statement greatly reduces confusion and chargebacks, which can cost your business thousands of dollars a year.
Brand Awareness
---
Brand awareness is very important for your business. It not only will drive traffic to your website, but it will ultimately help sell your products. When you accept international business through your ecommerce services more consumers are going to be made aware of your company and the products you sell. The more consumers that are aware of your business, the more likely they are to visit your website and to buy your products. This is exactly why it is so necessary to accept international currencies. As your business grows so to does your brand awareness.
Advantage Over the Competition
---
When you offer a service your competition doesn't you are already going to increase your chances of growing as a company. When international organizations and consumers look for a way to purchase your products you are going to gain a sizable advantage over what the competition is able to offer. The more services and value add you offer your consumers over the competition the stronger your company is going to become and the more revenue you are able to bring in. Accepting international currencies is what drives your advantage over your competition.
Growth
---
When you drive more revenue through accepting international currencies, you have much more resources that you are able to use to continue to build your company. Investing back into the company allows you to expand upon the services you provide, which in turn allows you to drive even more revenue off of the investment of accepting international currencies. Growing your business is the name of the game; invest in a service that will drive additional revenue to your business.

There are many reasons as to why accepting international currencies is so important, but one of the very best aspects include your ability to expand your business, gain an advantage over the competition, reach new international regions and gain recognition.