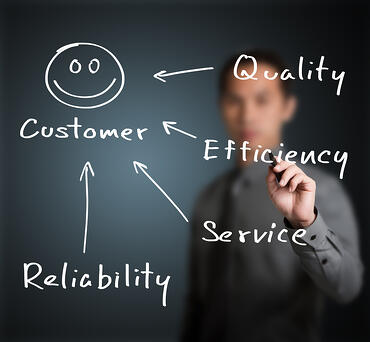 In today's economy, finding new ways to generate revenue is one of the most important facets of your daily operations. Whether it is a promotional campaign, or a new product your business has introduced into the market, there are always new ways to try and generate new business and create additional revenue streams. Finding those ways however is not always clear-cut and black and white, as we would hope. Streamlining your daily operations is a fantastic way to manage your customer expectations, finances and managing the time of your staff.
One of the biggest benefits to any business is having a cost effective, efficient and simple payment processing solution that will not only allow you to accept credit card transactions when needed, but also giving your customers another option to purchase your product or service. A virtual terminal is one solution that will not only create more time to service customers, but will also manage your transaction history giving you clear reporting of each transaction made throughout the day, week and month.
A virtual terminal is a secure URL that is provided to you by your payment processor. This secure URL gives your business the opportunity to accept credit cards over the phone, at a customer's house, on the road, or even at the office. Regardless of the situation, the virtual terminal provides you the opportunity to accept credit cards on the go, securely, and easily.
Take advantage of the following 5 ways a virtual terminal will streamline your business operations, and unable you to free up precious time that can be focused on customer service, new business opportunities, or simply free time.
1. Online Reporting
---
A virtual terminal provides a clear breakdown of daily, weekly, and monthly transactions in order to manage your transaction history easily and efficiently. Also, the data can be exported into any accounting system or program so that you can continue to manage your additional business expenses, and not have to worry about manually reconciling the days transactions, chasing after invoices, and worrying about bounced cheques.
2. On The Go
---
A virtual terminal provides on-the-go simplicity for accepting credit card payments anywhere. As long as you have Internet access, the secure URL can be access through the username and password that you can set up through the dashboard. This is perfect for businesses that deliver, take payments over the phone, or simply requires an additional solution for accepting credit card transactions.
3. Versatility
---
The virtual terminal solution provides your business the ability to accept credit cards on a number of different devices. Not only can the virtual terminal work easily on any laptop or desktop for simple over the phone transactions in an office space, or store, but it can also be used on any smartphone, tablet, or internet device that has URL searching capabilities.
4. Manage Users
---
With a virtual terminal solution, your business will be able to add multiple users under the same merchant ID, which means that your in-field reps, or staff members will be able to use the virtual terminal, and you will be able to monitor which user process which transactions through the online reporting dashboard. This is perfect for ensuring all the transactions that were supposed to be completed during that day were done, and the data was collected to be easily exporting into your accounting software.
5. Customer Service
---
Being able to provide your customers the ability to pay with their credit card will not go unnoticed, especially if it is outside of your office. There is nothing more frustrating than having to drive to the nearest bank to take out cash in order to pay for a product or service. With a virtual terminal, not only are you giving your customers the option of paying with their credit card, but also you are promoting quick and easy transactions. They will definitely return.
Use these 5 easy steps to improve and streamline your daily business operations. The virtual terminal is a fantastic payment solution for a plethora of businesses in multiple industries. Don't waste time with slow processes. Streamline your business operations today.