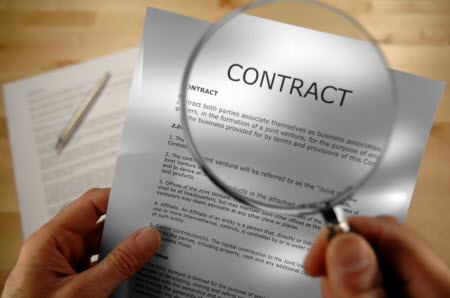 While the payment processing industry is incredibly competitive and continues to breed ISO's that make promises to merchants they cannot keep, most business owners make the mistake of signing up for the first offer they receive. With confusing pricing models, pushy sales representatives and language that's hard to understand, it's no surprise that most business owners get locked into payment processing contracts that they do not understand, or make no sense for their business model.
Don't fall victim to the same mistakes, and follow the 3 listed tips to ensure you choose the payment processing provider that is right for you.

1. Early Termination Fees
---
Merchant agreement forms create a binding contract between you and the payment processing provider. When it comes to getting a merchant account, almost every payment processing provider requires a contract term. Although this term can vary a great deal, for the most part they range between 1 to 3 years, but could very well be on a month-to-month basis. Many payment processing providers operate at a lost for a while, even if a setup fee is charged. This contract is to ensure that you are receiving the quality support and service that you require.
Along with this contract term, most providers also have an early termination fee, which is usually based on the remaining months on your contract. Some payment processing providers have a flat fee when it comes to early termination fees, rather than a fee based on remaining months. Look into the termination fee before contracting to educate yourself and protect your business.
2. Pre-Set Volumes
---
A lot of payments processing providers also have a clause regarding volume commitments, in which you agree to process X amount of dollars every single month. If you aren't able to fulfill this volume, you can be hit with a higher discount rate or some other form of penalty. While this can be an opportunity for very large corporations to negotiate a lower discount rate, virtually all-smaller or mid-sized businesses can potentially be hurt by this practice.
When it comes to getting a merchant account, inquire into whether your account is based off of future volumes, or a certain amount of volumes. For the most part, payment processing providers will not adjust your discount rate based on volumes, however, be aware, and do your research before contracting with a payment processing provider. Ensure that you are being charged based on your transactions, not based on pre-set volumes.
3. Decisions based on Price and rate
---
While cost is certainly a big consideration, it isn't the only one when it comes to choosing the best payment processing providers. Among your other concerns should be customer service, customer support, terminal replacement policy, payment processing solutions and help desk. Cost is definitely important, and should always be considered when dealing with a payment processing provider, but the last thing that you want as a business owner if your system going down, or a 2 week waiting period to get a replacement terminal.
These are the things that will separate the quality payment processing providers from the cheap payment processing providers. The most research that you do before committing to a payment processing provider, the more educated you will be, and the better choice that you can make. It is also not a bad idea to discuss how they deal with network issues, or if they have a supplemental process if your machines go down in the middle of a very busy day etc.
For example, some payment processing providers will have a back up terminal that they provide, or even allow you to do all offline transactions.