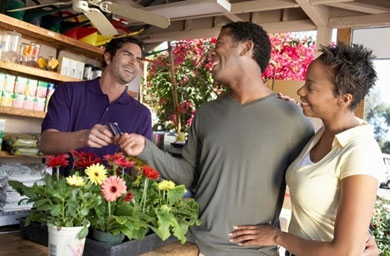 Despite the ubiquitous nature of credit and debit cards, studies show that a whopping 55% of the United States' 27 million small business don't accept any forms of credit or debit cards. This includes any form of over the phone transactions or card present transactions. In fact, due to the popularity of plastic payment, cash-only business models are quickly going the way of the dinosaurs and are becoming obsolete.
With the rise of the online consumer, and the fast paced consumer market, many consumers and businesses are moving towards the quicker, more secure way to pay. Right now, 66% of all point-of-sales transactions are made with credit, debit, or gift cards, while a measly 27% are made with cash. It's estimated that by 2017, cash sales will slide down by 23%, which means that in about three years 97% of people will use credit or debit to pay for goods and services!
Any small business that doesn't have a wireless payment system, or an online payment solution is missing out on opportunities to increase their sales, offer customers a more convenient way to pay, and improve their efficiency. If you don't feel an urgent need to implement a wireless payment system or online payment system, consider its benefits. The following three reasons are why small businesses should start investing in payment processing solutions and begin driving revenue.
Improve Revenue
---
Studies have shown that small businesses with a wireless payment system or online payment solution often see their sales double or even triple within the first 6 months of implementation. Having a wireless payment system or online solution increases the number of customers available to your business, since many people solely use plastic to make purchases.
Plus, people who use credit or debit tend to make larger purchases than those who use cash. Basically, with a wireless payment system or online payment solution, your business will see more high-value sales than ever before. Also, with the introduction of Interact flash and the tap and go, consumers are able to pay quickly and safely reducing line ups, and check out times.
Improve Customer Service
---
Giving customers more payment options is a great way to improve customer service. People enjoy having flexibility when it comes to making their payments for goods and services, and are encouraged when a business provides them different options to pay, especially when it involves collecting their valued point and miles. Whether they want to use cash, credit, debit, gift cards or checks, you're more likely to satisfy their wants and needs by being able to accept whatever their preferred method of payment is.
Improve Productivity
---
Credit or debit transactions are faster than cash, bottom line. Using a wireless payment system, or online payment solution can make your checkout lines run even more smoothly. All customers have to do is swipe and enter their PIN, and they're good to go with a receipt in hand and confirmation that the transactions was authorized. Also, implementing a wireless payment system or online solution will retain your current customers and increase their likelihood to come back to your business knowing that they have payment options that are fast and secure.

Merchant services solutions that provide wireless payment systems or online payment solutions allow your company to accept credit cards online and in store, opening new revenue streams to increase profit margins. Implementing such systems isn't just a way to improve your business, but a way to survive against the ever-changing consumer market. If you have any questions, feel free to ask in the comments.