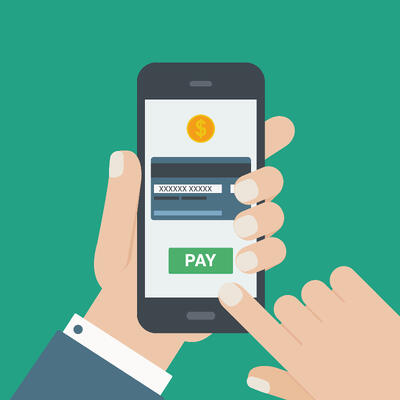 It took the radio nearly 40 years until 50 million listeners tuned in regularly -- while a totally different form of entertainment, Facebook, earned the same number of users in 3.5 years. The popular Draw Something smartphone app made the same progress in just 50 days. The discrepancy between the boom of new and old technologies, no matter how much a part of every day life they have become, is remarkable.
Now, the most important trend for consumers is not just using credit and debit cards, but linking to accounts and making payments while on the go. In fact, in June of last year, the number of mobile payments made from smartphones and tablets surpassed PC and laptop payments, representing the speedy growth and evolution of the digital marketplace and emphasizing the fact that businesses today need to invest in mobile payments solutions.
Making the switch to mobile
---
A Harris Interactive study found that 61% of American consumers believe that smartphone payments will not just replace online shopping at the computer, but even the use of credit cards and debit cards in stores. On top of that, 44% said that they were interested in using their smartphones to make in-store payments. For now, using card swiping machines will still work for brick and mortar retailers, but, if the study proves true, the ability to accept mobile payments will become imperative in the future. It could become an essential function even for businesses who don't make a big investment in online sales.
A solution fit for every size business
---
While it might seem like working to accept mobile payments is vital only for companies with lofty goals, the systems can also be beneficial to small businesses with tight budgets. Because mobile payment processors can handle all kinds of payments through one device, they can be an effective option for business owners looking to cut costs. They provide secure, accurate transactions without the need to invest in multiple machines. As a result, they are a smart investment for business owners who want to save money now while investing in their future.
By 2015, according to Heavy Networks Reading Insider, the mobile payment industry will account for more than $1 trillion in transactions. So any business looking to ensure success in both the short and long term will need to be able to accept mobile payments. Without doing that, they could lose potential buyers, and fail to fully capitalize on the almost-unbelievable boom of the digital marketplace.
Reporting
---
Another great aspect of the mobile payment industry, and more importantly the solutions themselves, is the focus on reporting and accounting. Not only are the mobile solutions able to process payment securely, effectively and in a cost effective manner due to the removal of costly rental terminal – but reporting, invoicing and transaction management are huge value adds to businesses. With extensive reporting systems, and easy to use data analytics, your business can export data, manage your sales and essentially view a number of important analytics from the solution itself.