The restaurant industry is becoming much more digitized as people rely on apps and technology to make their lives easier. Post-pandemic, ordering in became the norm, and restaurants had to adapt to stay afloat. To do so, they had to choose the right restaurant order management system to be successful. As a result, online platforms have changed how the restaurant industry operates.
There are many benefits to restaurant order management systems and online ordering platforms. These include better customer experience and easier order management. New customers now have a higher chance of finding your restaurant online through online ordering platforms. They can also now browse your menu and place their order whenever they'd like. It is now easier to order from you. Restaurant order management systems allow businesses to track customer analytics and learn more about their preferences. This lets restaurant owners make more informed decisions about their business. It also enables faster processing and accurate timing of orders. This increases customer satisfaction and eases the workload of restaurant staff.
When choosing an online ordering system, it is important to pick one best suited to the needs of your restaurant for a better chance at success. All restaurant order management systems will have features that could be pros or cons, depending on your restaurant's needs. Comparing each system's features is the best way to make the best decision. Below is a comparative list of what some of the top online ordering platforms have to offer to help you do so.
DoorDash
DoorDash Storefront, built by the DoorDash team, is a standalone online ordering tool. Outside of credit card processing fees, it is free. You get a templated online ordering site that you can customize yourself. All Storefront sites have a footer on the page advising that this site says "Powered by DoorDash Storefront." You can access some of the DoorDash promotional tools through your Merchant Portal. However, your DoorDash Storefront is not listed on the DoorDash app unless you want to do it for a fee. For a commission fee, you can list your restaurant on the DoorDash platform to draw new business.
With DoorDash Storefront, there are no commission fees for standard orders, no long-term contract, and you own customer data. There are commission fees for delivery and pick-up orders, depending on delivery range and if you want access to DashPass users. You can receive DoorDash Storefront orders via tablet, email, phone, or fax and can integrate with DoorDash POS partners. You can also use middleman apps that DoorDash integrates with.
DoorDash integrates with many POS systems as well as with web hosting sites. It also lets you use a mix of in-house and third-party drivers, which is great to have both options. However, the fees for using your own drivers are high and in-house drivers cannot text with customers like DoorDash drivers can. Refunds are challenging on DoorDash. You can only refund pickup orders from your Merchant Portal; all other refund requests must go directly through DoorDash.
Pricing
Monthly software fee: $0
Installation fee: $0
Per-order fee: $0
Per-delivery fee: 0%–30%
Using Dashers: $3.99 + 10% (customer pays)
Using Self-Delivery: 8%–12%
Contract length: Cancel anytime with 30 days written notice
Processing fees: Built into commission fees
Integrations
POS: Square, Toast, Adora, Cake, Focus POS, Future POS, Harbortouch, HungerRush, Shift4, Aloha, Positouch, Restaurant Manager, Squirrel
Middleware: All Day Kitchens, ItsaCheckmate, Chowly, Cuboh, Deliverect, Mobi2Go, Ordermark, OLO, Omnivore, Otter, UEat, REEF

Lightspeed Restaurant
Lightspeed Restaurant is a point-of-sale solution designed for all food service businesses. They offer both front-of-house and back-of-house operations management such as inventory, staffing, and sales, as well as data and analytics. However, their reports on employee performance are limited, and there is a big learning curve for the software used for front-of-house and back-of-house. Depending on the package that is selected, they offer different features. For example, all their packages have Customizable POS, Menu Manager, CRM, and Loyalty. However, only their Essential and Premium packages have Online ordering, contactless ordering, and order and pay at the table.
Lightspeed also integrates online, in-house, and delivery orders for fast service, but it does not manage delivery drivers or an app marketplace. While it does integrate with OpenTable, its floor plan package does not include reservation management.
Pricing
The starter package is $69/month
Essential package $189/month
Premium package $399/month.
Custom pricing for enterprise solutions
Payment processing: 2.6% + 10¢ (for Starter and Essential, custom rates for Premium)
Integrations
POS: Lightspeed
Payments: credit card, debit card, and mobile payments
Middleman apps: OpenTable
Toast
Toast is a restaurant POS system with built-in online ordering tools. Toast online ordering requires first subscribing to the Toast POS system. Restaurants can complete a menu spreadsheet, and the Toast team uses it to build their online ordering site. Toast's online ordering menus are detailed and equipped to handle order modifications.
Their online ordering module includes QR code ordering tools. In addition, Toast subscribers are featured in the customer-facing Toast TakeOut smartphone app. This app allows customers to find restaurants based on cuisine or location and is available on Google Play and the Apple App Store.
Restaurants can use Google Maps to set custom delivery areas and fees and assign orders to in-house drivers. When an order is marked as complete on the kitchen display system screen, Toast systems alert customers and staff. It is automated but does not give comprehensive delivery status updates. Toast also allows restaurants to manage drivers' sales with the same level of detail used for dining room wait staff, such as tip information and logging sales.
Though restaurants can route drivers from third-party delivery apps like DoorDash, Toast, unfortunately, does not integrate with other POS systems. It also has limited payment processing options and does require its own proprietary hardware. Toast Payments includes real-time enhanced fraud protection and support for all e-commerce transactions. This makes their payment processing fees higher than others.
Pricing
Monthly software fee:

POS: $0–$165 (Plus POS subscription)
Online ordering: $75 or Pay-as-You-Go with an additional 0.40% in processing fees

Contract length: 2 years
Payment Processing: 2.49% + 15 cents to 2.99% + 15 cents, depending on POS plan
Integrations:
POS Integration: Only Toast POS
Delivery: DoorDash, Shipday
Middleware: Chowly, ItsaCheckmate
Square
Square Online is a free e-commerce website that runs on the Square Payments platform. Small businesses can create a free Square Online store or website by signing up for a Square account and attaching a bank account. Square does not charge any extra fees for online orders. Restaurants only pay the processing fees for processing online payments. The low entry barrier makes Square Online more accessible for smaller restaurants.
Square Online only integrates with Square POS systems, and setting up the site is very much a solo job. The Square for Restaurants POS's baseline subscription is free, and its restaurant functionality can expand by adding the free version of the Square for Restaurants POS. Restaurants only pay processing fees on online purchases. Square, however, is the only available payment processor, and its hardware can lack long-term durability. Online orders feed directly into the Square for Restaurants' POS and kitchen printers. The Square platform hosts many software tools to handle customer loyalty programs, marketing solutions, and payroll. Management is also able to access the order dashboard from any internet-enabled device. Square also sends an email for every new online order.
Pricing
Monthly software fee: $0
Installation fee: $0
Per-order fee: $0
Per-delivery Fee:

Using third-party drivers: $1.50 + $6.99 (DoorDash) or $4.50 + 95 cents/mi (Uber/Postmates)
Using in-house drivers: 50 cents

Payment Processing: 2.9% + 30 cents
Contract length: No contract is required
Integrations:
POS: Square for Restaurants
Delivery: DoorDash, Uber/Postmates
Middleware: Square Online does not integrate with middleware; the Square for Restaurants POS integrates with Chowly, Cuboh, Deliverect, and Slice

Restolabs
Restolabs is an online ordering system that offers many payment processors, such as Stripe, Paypal, and Square. It also allows restaurants to accept cash or card payments with pickup or delivery. They have a 60-day free trial allowing owners to try their tools before committing. Delivery features, however, are not included in the baseline subscription. The POS integration is only available for extra fees. This is either through a middleman app or with an Essentials subscription.
The team at Restolabs will create a primary online menu. From there, restaurants can update and customize it in the site editor. The menu templates also allow for modified menu items such as family-style combo deals and build-your-own pizzas. They also allow for adding prices to modifiers to ensure every customized order is properly charged. Restolabs also offers customizable combos and discounts. They do not offer a platform site to create new business.
Pricing
Monthly software fee:
Basic: $828 (paid annually); $69 (paid monthly)
Premium: $1,188 (paid annually); $99 (paid monthly)
Enterprise: $2,388 (paid annually); $199 (paid monthly)
Per-order fee: $0
Payment processing: Varies by processor; Restolabs integrates with 30+ providers.
Contract length: Month-to-month or annual subscriptions are available
Integrations
POS: No direct POS integrations
Middleman Apps: Deliverect, ItsaCheckmate (both enable POS integration)
Delivery: Tookan (in-house delivery), Doordash, Uber/Postmates
Revel Systems POS
Revel Systems is a POS that operates on iPads that are pre-configured with the POS software. This means Revel users must buy their hardware directly from Revel, increasing the cost. The iPads can be used as kitchen display system screens, POS terminals, customer-facing displays, self-service kiosks, or table ordering and payment devices. The Revel team creates your online ordering site from the menus loaded into your POS. It takes longer than building a website via a setup wizard but helps with limited administrative bandwidth.
The underlying requirements of a Revel subscription are a three-year contract, a mandatory installation fee, and a two-terminal minimum subscription. This makes Revel a better fit for multi-location restaurant groups than single-location ones. Revel includes a free driver app, Revel Delivery XT Agent, that syncs with your dispatch system. The app notifies drivers about new delivery assignments, updated delivery information, and real-time directions. Orders from your Revel online ordering site appear directly in your POS order stream. Revel's online ordering integrates with its POS, and they have the same support team. Restaurants can also use the same payment processor for in-person and online transactions.
Pricing
Monthly software fee: $99 per terminal monthly for POS; online ordering tools are custom-quoted
Installation fee: Starts at $674
Per-order fee: $0
Payment processing: Varies by processor; Revel Advantage is custom-quoted
Contract length: 3 years
Integrations
POS: Only Revel
Payments: Revel Advantage, First Data, Heartland, TSYS, Worldpay, Chase Paymentech, Elavon
Delivery: DoorDash Drive, Grubhub
Middleman apps: Cuboh, Chowly, ItsaCheckmate, Deliverect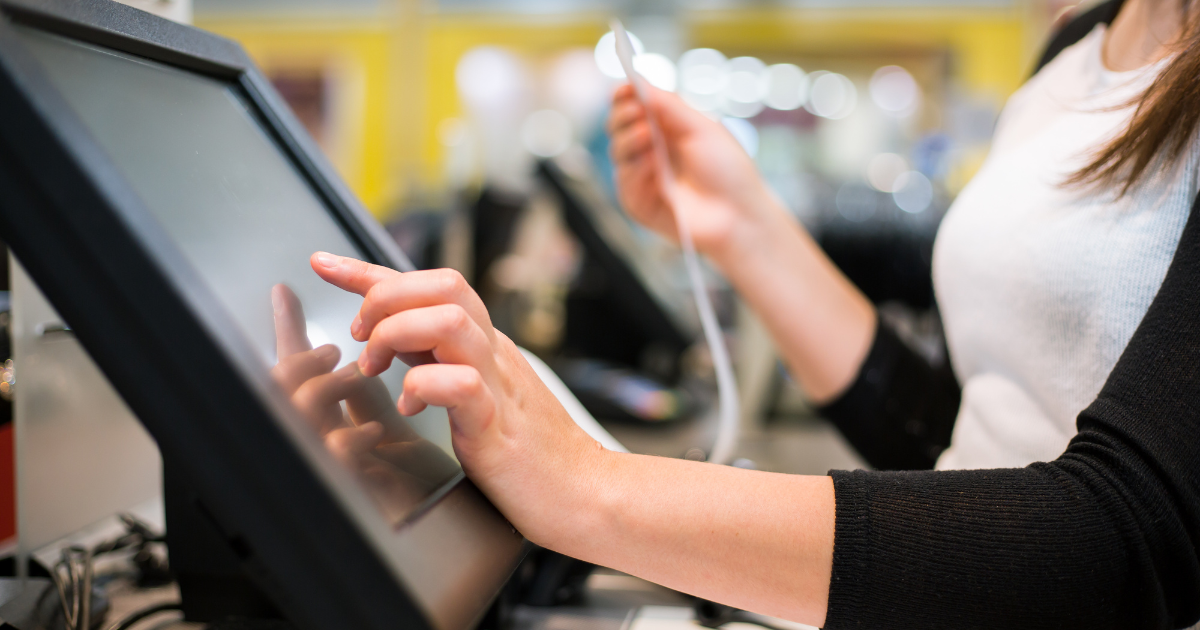 BNA Digital Dining
BNA Digital Dining is a web-based, fully-contactless mobile platform that can cater perfectly to any venue, including restaurants, bars, coffee shops, and hotels. It enables their customers to use any smartphone to scan a custom QR code to browse their digital menu, order and pay without downloading an app. They can also type in a URL using any web device. From there, orders are sent to your BNA Digital Dining POS Terminal, kitchen printer, phone, or tablet, where you can process and manage customer orders. Track and fulfill customer orders as they come in, or cancel orders and issue refunds. The BNA Digital Dining platform can host your merchant operations, marketing, CRM, and loyalty systems.
With the BNA Digital Dining platform, restaurant owners can submit a spreadsheet of their menus, and Digital Dining's team will create a base menu for them. BNA Digital Dining can customize menus and add customization preferences such as having a steak "Well Done, Medium, or Medium Rare." Restaurants can also enable the 'extras' feature, which allows customers to add "extra tomatoes, extra cheese, and extra bacon" as toppings to their orders.
The Digital Dining Platform also allows restaurants to have Timed Menus. You can set specific times and days you want a specific menu to be visible. For example, a Happy Hour menu that runs from 5-9 pm. Their software also allows for Split ticket printing between bar and kitchen and Data rich analytics and reporting.
They accept Apple Pay, Google Pay, and all cards, and their software integrates with over 45 Restaurant POS Systems, including popular ones such as UberEats, TouchBistro, square, and Skip the Dishes.
Pricing
Monthly software fee: $0
Installation fee: $0
Per-order fee: $0
Payment processing: 2.9% +$0.30 per transaction
Contract length: None
Integrations
POS: Clover, Square, Grubbrr, Nōwn, QuickPOS, Lightspeed, TouchBistro, +27 more
Payments: any credit or debit card, as well as Google or Apple Pay
Delivery: Skip the Dishes, Uber Eats, Mealo,
Middleman apps: Tango, Shopify, Menuu
Below is a comparative chart of the previously mentioned restaurant order management systems, highlighting their pricing and features.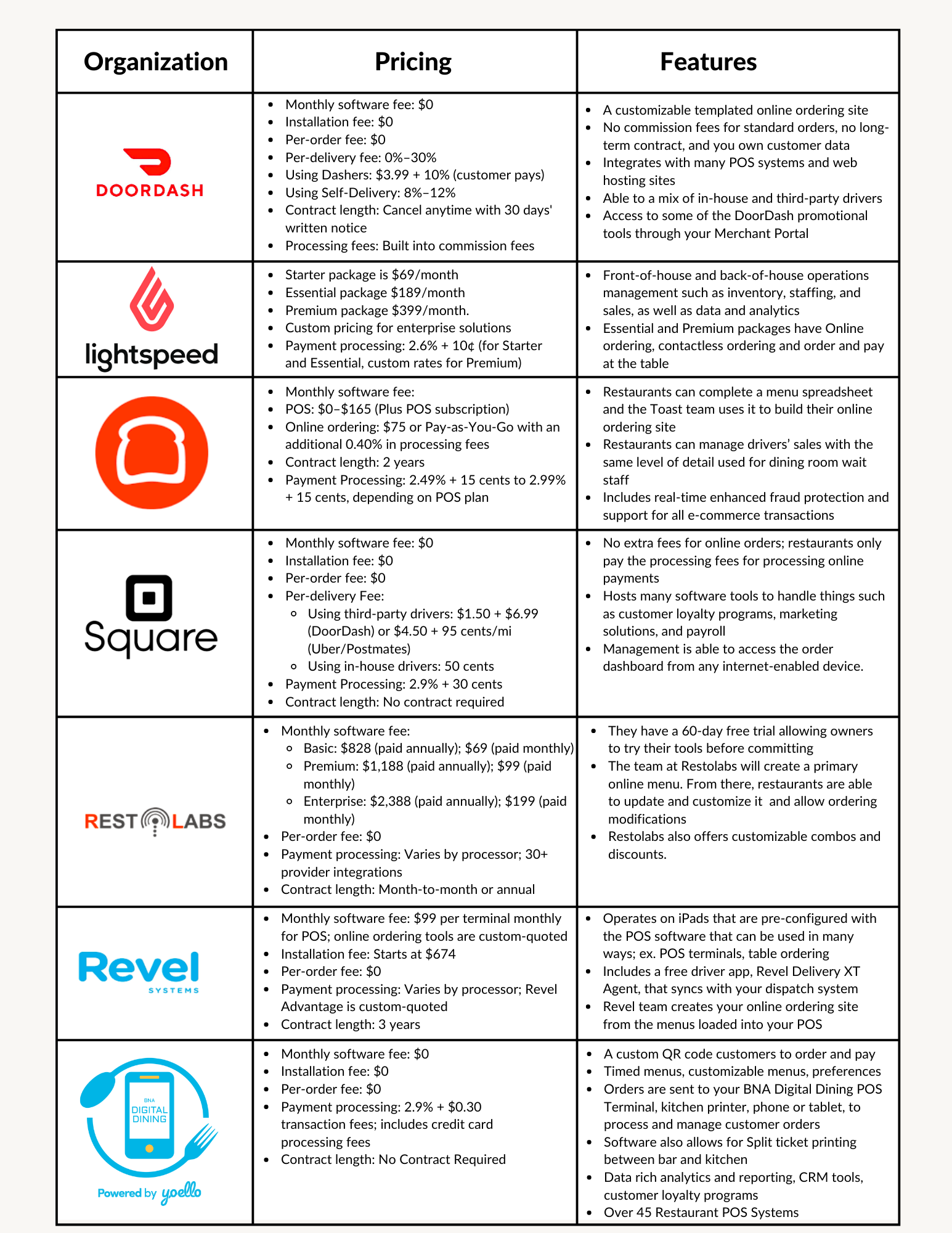 Regardless of the restaurant order management system you select, knowing what is out there and what features and costs you have to choose from is essential. This way, you can make the best decision for your business needs.
Sources:
https://fitsmallbusiness.com/online-ordering-system/
https://trufflesystems.io/blog/online-ordering-platforms-benefits-and-how-to-choose-the-best-one/