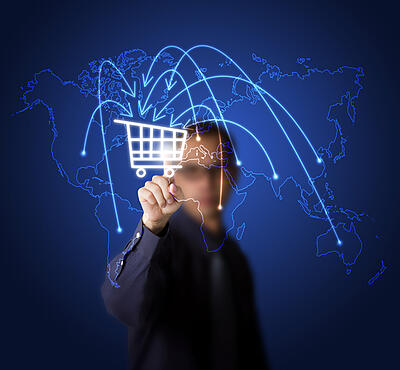 It today's market, expanding your business into the online realm is a great way to increase your customer base, your target market, and generate additional revenue. The online shopping stats continue to increase as technology advances, and more and more consumers choose to use their mobile phones, laptops and tablets to price match and search for goods and services that they require. However, it is a lot easier said than done.
Most businesses that dive into the eCommerce space make some common mistakes that can cost them not only return customers, but a great deal of money. Getting started with your new online business, or trying to expand your current online business to drive additional traffic and increase sales has to be done the right way from the start.
Although processing rates for your eCommerce solution are important, it is not the only facet of the business that needs to be addressed and considered. I have outlined the 5 key steps when choosing an eCommerce solution to help you navigate expanding your online business or starting your online business. This will provide the information that you need to lay the foundation for this growing market space.
1. eCommerce payment gateway
---
There would be no online business without a payment gateway. This payment gateway is what you will be integrating into your website and will allow you to securely accept credit cards through an HTTPS secured website.
Choosing the right payment gateway provider, or eCommerce provider is the first and most important step when getting started with your online business. Pricing is important yes, and we will get to that, but what is more important is having a robust, compatible and secure payment gateway that has pre-integrated shopping carts. Most eCommerce providers will have a number of shopping carts that they are already integrated with. This will ensure that you will have a much more simple time setting up your eCommerce solution, than having to do the integration from scratch.
2. Choosing the right shopping cart
---
With any online business, customer experience is drastically important. This means that when a customer comes to your online store, and takes a look at your website and your products or services, they are engaged and are excited to look around and shop. However, not having the proper shopping cart for your eCommerce solution can see these eager customers leave as quickly as they came. Having a shopping cart that is clear, shows all the costs associated with the purchase, and easily integrates into the payment gateway that you have chosen is very important.
Make sure that it has all the functionality that you desire, and does not require more than 3 steps to check out. The more steps that a customer must take in order to make the purchase; the longer they have to cancel the order and move on.
3. International Currency
---
When expanding into the eCommerce market, you do not want to limit yourself to simply domestic sales. Look for a payment gateway, and eCommerce provider that has multi currency conversion, or allows your business to accept international currencies. This is a great way to promote your business internationally, and will immediately expand your customer base.
4. Processing Fees
---
Now we can get into the fees of having an eCommerce solution once you have looked into the functionality of the payment gateway, and the shopping cart solutions that are integrated to it. Processing fees for eCommerce are higher than the typical brick and motor wireless terminal. This is because all the transactions are Card-not-Present, meaning manually entered, or in this case, online.
This poses a larger risk when accepting credit cards, as the pin and chip are not used - resulting in higher fees to try and mitigate this risk. It is important to do a rate comparison to ensure that you are not being taken advantage of, but do not except bottom of the barrel rates. If you are only interested in rates, you will get the service that comes along with cheap rates.
5. Customer service
---
You always want to deal with an eCommerce provider that has great customer service. Take the time to ask the right questions when you are going through the initial contract, if there is one, and learn how their process works if you have an issue. Is there a helpdesk? What are the hours? Do you have technical support? What is your chargeback policy? You can never ask too many questions.