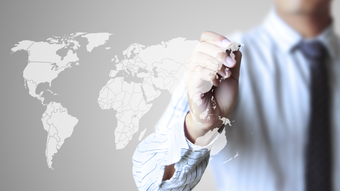 One of the biggest advantages of having an eCommoerce business is your ability to market and sell your products or services to a more global audience than a typical storefront. Many profitable online consumer markets are located outside of North America, which means ecommerce businesses do not want to limit their target audiences to simply the United States and Canada.
According to a number of ecommerce studies, in 2015, Asia-Pacific markets will spend more online than any other countries in the world. This means that those eCommerce businesses that are not appealing and marketing to global markets such as Asia-Pacific, they are loosing out on a massive piece of the online sales pie. It is very important for eCommerce businesses to adapt and promote their business to a wider market and broaden their consumer base.
CREATE UNIQUE MARKETING STRATEGIES
---
Implementing a global marketing strategy across all global markets will not be successful in increasing your consumer base globally. Instead, create specific and targeted marketing strategies designed specifically for the regions that your eCommerce business is looking to penetrate.
This way, the products and campaigns that are being set up will appeal to the market that they are designed for, rather than having a global campaign that will be hit or miss in different regions. It can also be greatly beneficial to have marketing campaigns put together in the language of the country, or region that your business is targeting.
This way, the campaign can provide a local feel and gives consumers a feeling of trust or security when making their purchases on your eCommerce website. The more than you can connect through marketing campaigns and strategies with the targeted region, the higher conversion rate your business will see.
Every country is a different, so it is important to know that even though you may be targeting a region, if there are major differences in certain lifestyle options, or business values, to incorporate those changes specifically for that country's campaign. Do not assume that all countries in one region will be engaged by the same campaign.
INTERNATIONAL ECOMMERCE FUNCTIONALITY
---
Whether it is your unique campaigns that have drawn in new visitors to your online store, or through SEO and inbound marketing campaigns, be sure that your website has the ability to convert to different languages for your consumers.
Engaging consumers from a specific region is important, but having these consumers come to your eCommerce website and be able to easily navigate and understand your products or services is more important. You want to increase your conversion rate as much as you can, which means providing international functionality within your ecommerce business, and giving a language option for the website, will generate increase conversion rate and increased revenue.
FLEXIBLE GLOBAL MERCHANT SERVICES PROVIDER
---
As eCommerce businesses begin to expand overseas, having a robust merchant services backend and platform is greatly required. It is not enough simply to market and provide region specific campaigns in order to expand your consumer base.
You must use a merchant services provider that is well versed when dealing with global merchants looking at targeting new global regions. Having an eCommerce platform that provides the ability for your business to accept multiple currencies and settle in one or more currencies is important in growing your eCommerce business globally.
SECURITY
---
Providing a safe and secure checkout page on your website, with the required SSL certificate and cardholder data protection merchant services is a top priority amongst online consumers.
Given the amount of online fraudsters and chargebacks that are become more of a common place in eCommerce business, providing that security, with proper privacy policies, return policies and refund policies will encourage your visitors to do business with you confidently.
Part of your marketing strategy should be to outline the safety and security steps that your business has taken to ensure your customers are aware their safety is your first priority.

For more information about multi-currency merchant services, contact us today!