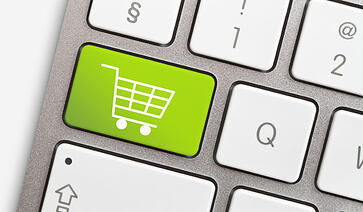 Having an online store for your business provides an excellent resource to increase revenue for your business by tapping into the ever-growing online shopping market. The days of having to visit multiple different stores for the products and services that you require are slowly diminishing, and with the convenience of online stores and online shopping, being able to get the products and services that you require are now just a click away. However, it is not enough just to have an online store, you must be able to speak to your customers, and provide them with an effective, and simple check out experience that will keep them satisfied, and ensuring their fast return.
Not only is online shopping a convenient and time efficient way to purchase the products and services that you require, but it can be very cost effective as well. Follow these 3 quick tips in order to ensure that your online store provides a great experience to all of your customers, with simple functionality, and visually appealing layout. If you follow these tips, you will be on your way to increasing your online store sales.
1. Accept International currencies
---
Being able to accept international currencies through your online store is one of the best ways to increase your target market, as well as increase sales for your business. Not only will you be able to accept more than 50 different currencies, depending on your payment processor and their e-Commerce solution, but all transactions will be settled in CDN dollars and you will have full control to set the exchange rate as Dynamic or Static. This is a fantastic feature, as you will be able to control how much your product is being sold in a specific market.
Dynamic refers to the fluctuation in the daily exchange rate for different currencies. If you decide to set your product at $100.00 CDN, that price will fluctuate daily based on the Forex exchange rates, and you will always receive $100.00 CDN for your product. Static refers to the ability to set a fixed price point in specific currencies, which will alter your margins. However, if you know that the Chinese market will pay $150.00 for your product, and you want to maintain a fixed price in Yuan, you have the ability to set your price point for that market at 905.00 Chinese Yuan. International currency solution for your online store is a differentiator, and something you should look into right away.
2. Simple, Functional layout
---
It is important for your online store to have a very simply yet functional layout, similar to any brick and mortar store. Having a confusing, busy, and over bearing store in a mall will potentially drive customers away, rather than entice them to come in and look around. The same goes for an online store. It needs to be clear, visually appealing, and simple.
One of the frustrating parts of any online shopping experience is the amount of fields, windows, information that you require to navigate through in order to make one purchase. Try to mitigate the process as best you can, and provide a smooth check out and navigation experience for your online customers.
This will ensure that they feel comfortable purchasing from you, and will most likely do so in the future. Also, if you keep your customer experience simple and confusion free, you will also increase the amount of customers that purchase from you. This is because, the more complicated the process, or the more convoluted your online store looks in design, the more intimidating it looks to novice online shoppers. If you want to increase your online sales, keep it simple and clean in design.
3. Tablet - Mobile Friendly
---
Another key step in increasing your online store sales, is ensuring that your website is tablet, and smart phone friendly. This means that you have optimized your website for both tablet and smart phone using a third party developing company, or perhaps the website developers that you used to build your website initially.
This is not a complicated process, and essentially guarantees your website is functional and able to be used on not only laptop and desktop computers, but on all tablet devices and smart phones. Online shopping is not just from a laptop or desktop computer anymore, with the rise in tablet devices and smart phones each quarter, the rise of online shoppers using those devices logically increases as well. Don't fall behind in sales because your website is not compatible.